Grow old along with me!
The best is yet to be,
The last of life, for which the first was made:
Our times are in His hand
Who saith "A whole I planned,
Youth shows but half; trust God: see all, nor be afraid!"
Robert Browning (1812-1889)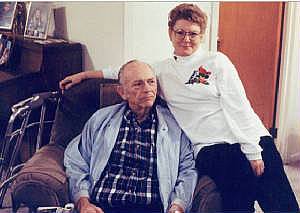 Mary Ann & Earl Johnson
In conclusion we would like to say, "Working with these pictures and stories, especially the old ones, have brought us a little closer to our heritage, the greatest being family values. The old folks encountered many hardships back then; sickness, disease, toil, strife, heartache, wars, floods, droughts, deaths, the great depression and many more. But like the pioneers before them they faced every obstacle with all their strength and courage.

Now…we're the old folks, and we feel an obligation to our children, grandchildren and great grandchildren to preserve some of these old pictures and stories. Maybe in some small way we can connect them with those of the past.
If you should ask us for a word of advice we would tell you to do everything that you want to do while you are young, for all too soon you may wake up some morning and find yourself old and physically impaired and no longer feeling like doing much of anything. But by then it's too late, and there are no second chances. So be true to yourself; don't let the good things of life pass you by, but reach and grab for them with all the gusto you can.
Also, be true to the Lord; read his word and pray, and someday we will meet you in heaven; and not us only but our loved ones who have gone on before us. As we read their old letters and stories we find that most of them had deep religious convictions and looked forward to seeing their Lord and Saviour. So we not only look to them as being from our past, but also to seeing them in the future.
We hope you enjoy this little website as much as we enjoyed making it. Although many of the old pictures have darkened and faded, the memories we hold of them are bright and clear and remind us of a less hectic time. There are many more pictures we could add to this site and like these, each one has a story, but time won't allow us to do them all, so we will say good-bye for now and God bless you."
Mary Ann and Earl Johnson